Those who know me well, know that I love to cook and bake. In fact, one of my goals in life is to have my own food blog.  But if you factor in the costs of creating a domain, copyrighting and purchasing props, ingredients, etc. – It can get real pricey… And guess who has a tonne of student debt? THIS GIRL. Until then, I'd love to share some of my recipes with you, right here!
You may see a common theme with some of my recipes. I rarely include dairy products or eggs. Therefore, most of what I make is vegan-friendly. I tend to use applesauce, bananas, flax and oil instead of eggs and butter. It's just a cheaper and (sometimes) healthier option, however you can sub in whatever you have lying around. Here's a good guide that I like to follow for baking substitutes.
Recently, I went to the store to get a small can of pureed pumpkin for pumpkin spice muffins I wanted to make. They were all out, so I had to get one of those massive cans. That being said, I had a lot of pumpkin leftover. Chocolate has been on my mind lately (by 'lately', I mean every day), so I decided that it'd be a perfect opportunity for a pumpkin/chocolate hybrid.
These Chocolate Chip Pumpkin Cookies are the perfect mix of…
…chewy
…soft
…cake-like
….and chocolatey.
Let's jump right in.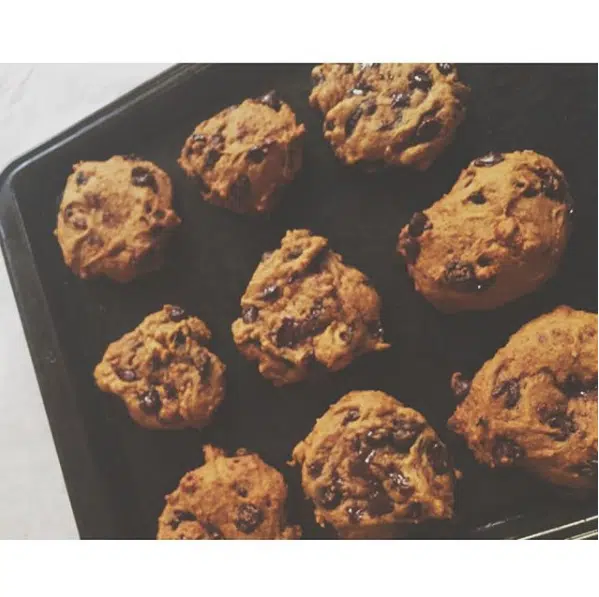 Leah's Chocolate Chip Pumpkin Cookies
Yield: 16-20 cookies
Ingredients
1 cup flour
1 tsp baking powder
1/2 tsp baking soda
1/2 cup brown sugar
1 pinch salt
1/2 cup pureed pumpkin (not pumpkin pie filling)
2 tbsp canola or vegetable oil
3 tbsp applesauce (I used sweetened applesauce)
1 tbsp pumpkin spice
2 1/2 tsp vanilla extract
1 1/4 cup semi-sweet chocolate chips
Steps
Preheat oven to 350.
In medium-sized mixing bowl, combine flour, baking powder, baking soda and salt. Set aside.
In large mixing bowl, combine remaining ingredients (except for chocolate chips).
Slowly add dry ingredients to wet ingredients.
Fold in chocolate chips.
On a parchment-lined baking sheet, **drop spoonfuls of cookie dough approximately 2 inches a part from each other.
Bake for 7-9 minutes.
Let cool down and enjoy.
If you end up giving this recipe a try, I'd love to hear from you.
** The cookies will spread out a bit while in the oven, however not much. I like to flatten the dough a little prior to baking.